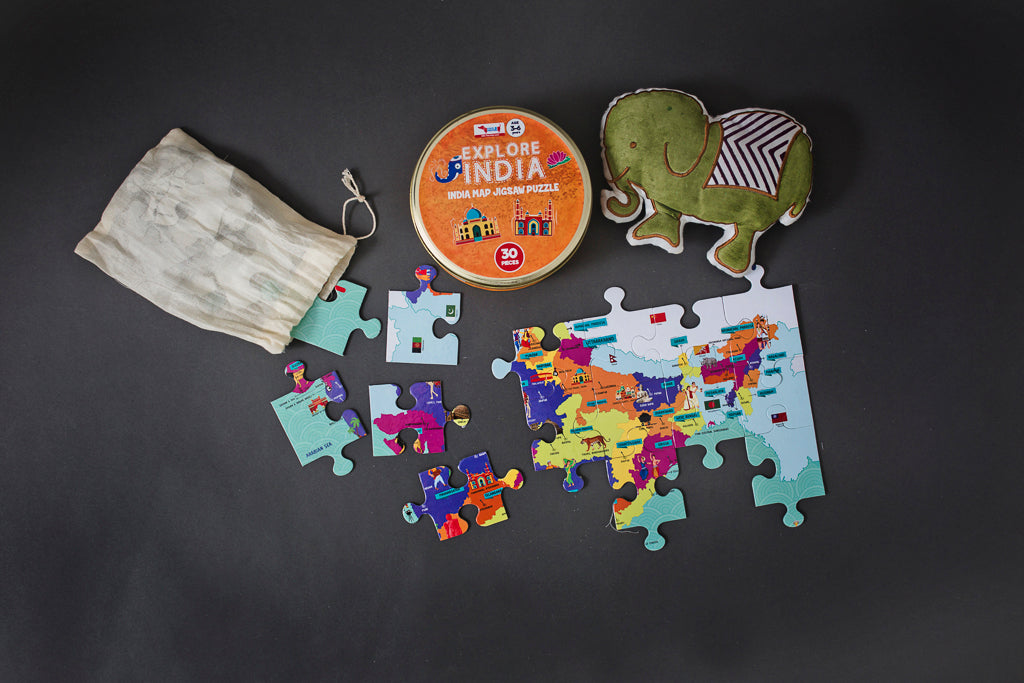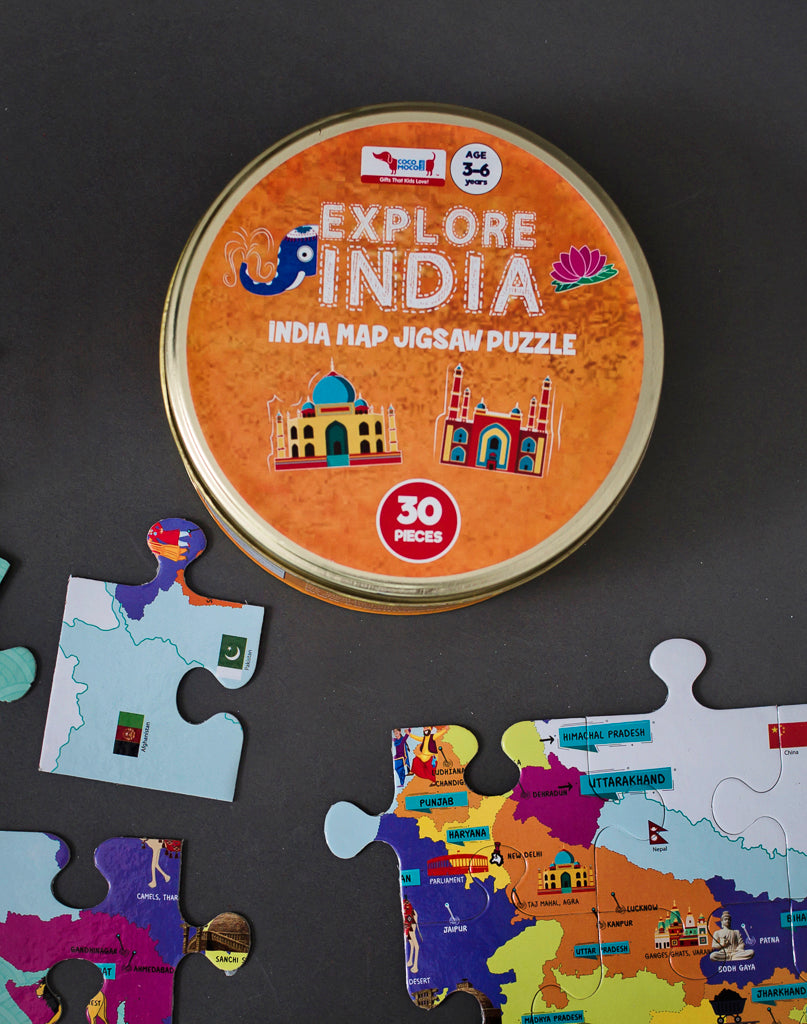 India Map Jigsaw Puzzle 30 pieces
Sale price
Rs. 349.00
Regular price
Rs. 349.00
Tax included.
India Map Jigsaw Puzzle 30 pieces
Sale price
Rs. 349.00
Regular price
Rs. 349.00
Product description
Shipping & Return
Product reviews
INDIA MAP JIGSAW PUZZLE 30 PIECES - Brightly coloured states, dances, monuments and more are designed to help your child learn through play. Capitals and important cities are marked on the map along with state names.
DIMENSIONS: 14 x 12 inches; REUSABLE TIN BOX packaging makes it perfect gift and return gift for birthday party
CONTENTS: - Medium 2-in 1 colourable Desk/floor puzzle with colouring activity on back
SKILLS: Enhances gross-motor skills- Improves memory - Enhances critical thinking - Heightens creativity - Hones visual-spatial coordination and visual perception - Boosts knowledge - Motivating and Rewarding
AGE: 2 to 6 years; NUMBER OF PLAYERS: 1-2
A fun way to learn Indian geography through a jigsaw puzzle! Packed in reusable tin boxes, these are perfect gifts and return gifts for birthday parties!
Medium sized 2-in-1 jigsaw puzzle with 30 jumbo pieces packaged in a tin box to help your child take the first step in learning about India. Brightly coloured states, dances, monuments and more are designed to help your child learn and create memories through the joy of a toy.
The puzzle doubles up for a fun filled colouring activity on the back, which will help your child hone visual perception and to use motor skills.
Refund and Cancellation Policy
Our focus is complete customer satisfaction. In the event, if you are displeased with the services provided, we will refund back the money, provided the reasons are genuine and proved after investigation. Please read the fine prints of each deal before buying it, it provides all the details about the services or the product you purchase.
In case of dissatisfaction from our services, clients have the liberty to cancel their projects and request a refund from us. Our Policy for the cancellation and refund will be as follows:
Cancellation Policy
For Cancellations please contact the us via contact us link.
Requests received later than 14 business days prior to the end of the current service period will be treated as cancellation of services for the next service period.
Refund Policy
We will try our best to create the suitable design concepts for our clients.
In case any client is not completely satisfied with our products we can provide a refund.
If paid by credit card, refunds will be issued to the original credit card provided at the time of purchase and in case of payment gateway name payments refund will be made to the same account.