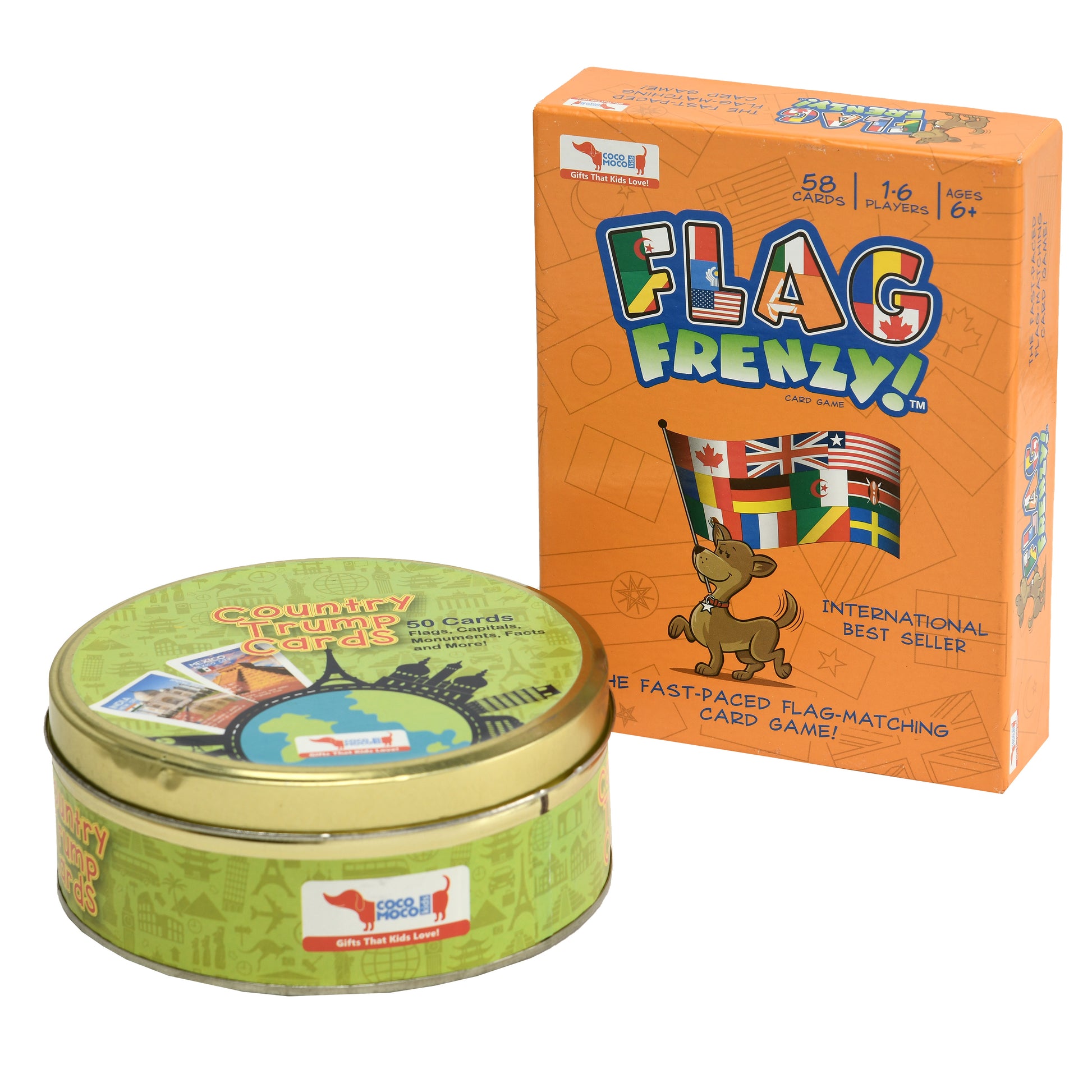 Geography Card Games Combo Pack
Sale price
Rs. 758.00
Regular price
Rs. 798.00
Tax included.
Geography Card Games Combo Pack
Sale price
Rs. 758.00
Regular price
Rs. 798.00
Product description
Shipping & Return
Product reviews
Flag Frenzy – A GEOGRAPHY GAME to learn about flags! Ages: 5 years and above. We have seen many 4 year olds enjoy this game too! Great Travel Game and a perfect game to play with family and friends of all ages!
Country Trump Cards Geography Game - Educational Toy, Return Gift for Kids Ages 5-8 Years, 9-12 Year Old Boys and Girls (Multicolor)
Bestselling International Game to Learn Flags – This Flag matching game is easy to play and keeps kids and families engaged with hours of FUN! Spot flags of different countries, match and collect cards. An easy way to learn flags of countries through play. Each card has eight flags, and every card ALWAYS has one flag in common with every other card.
Packaged in a cute tin storage box. The classic trump card game has been adapted to different countries of the world using a set of brightly-coloured and neatly designed 50 cards. An all time favourite among customers, the cards double up as collectables with information about the flags, monuments and fun facts of different countries. A popular educational game to teach geography for kids instead of using country flag flash cards. The trump card game uses rankings of happiness, area and population and the player with the lowest rank of declared quantity wins the round. Ideal for playing with friends, at home or for educational activities at school. This one is a must-have to boost the knowledge of your kid through the joy of a toy
Refund and Cancellation Policy
Our focus is complete customer satisfaction. In the event, if you are displeased with the services provided, we will refund back the money, provided the reasons are genuine and proved after investigation. Please read the fine prints of each deal before buying it, it provides all the details about the services or the product you purchase.
In case of dissatisfaction from our services, clients have the liberty to cancel their projects and request a refund from us. Our Policy for the cancellation and refund will be as follows:
Cancellation Policy
For Cancellations please contact the us via contact us link.
Requests received later than 14 business days prior to the end of the current service period will be treated as cancellation of services for the next service period.
Refund Policy
We will try our best to create the suitable design concepts for our clients.
In case any client is not completely satisfied with our products we can provide a refund.
If paid by credit card, refunds will be issued to the original credit card provided at the time of purchase and in case of payment gateway name payments refund will be made to the same account.