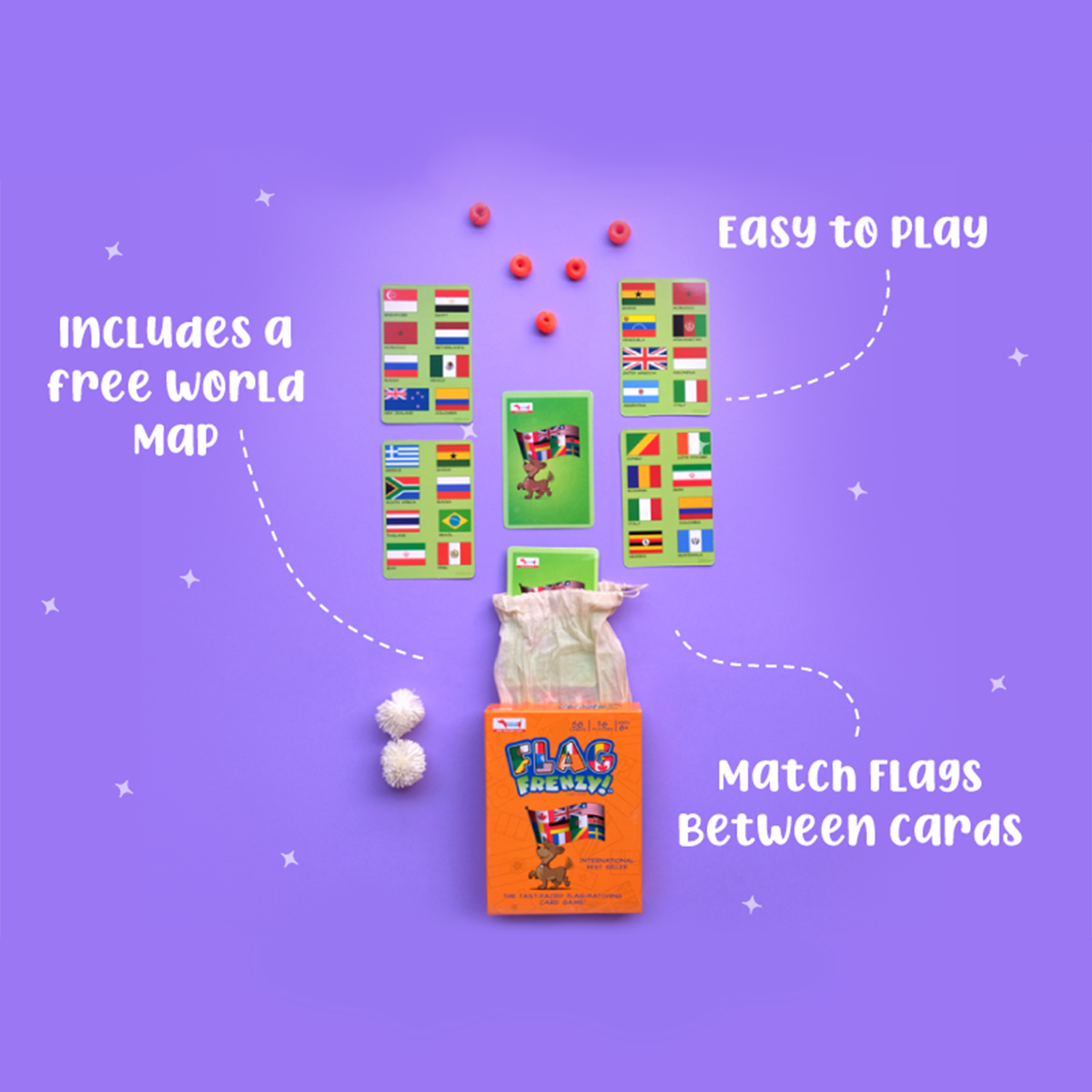 Sale price
Rs. 449.00
Regular price
Rs. 449.00
Tax included.
Flag Frenzy
Sale price
Rs. 449.00
Regular price
Rs. 449.00
Product description
Shipping & Return
Product reviews
Includes 49 flag cards, 8 continent cards, rules and a world map
EDUCATIONAL GAME - You'll become a geography whiz, and it won't be painful. It's an exhilarating race! Played like Spot it or Dobble with an educational twist! Match flags and collect cards
Great travel game, family game
A GEOGRAPHY GAME - Encourages awareness of states, locations and flags.
An international bestseller! This game is fun for kids and families to play together.
This geography flag game includes 49 flag cards, 8 continent cards, and a world map with flags marked on it.
Learn the flags of major world countries by being the first to match one flag to another in this fast-paced game. Played like Dobble or Spot it with an educational twist!
Each card has eight flags, and every card ALWAYS has one flag in common with every other card.
Be the first to match one flag with another, and you can play your card down on the center pile.
First player to get rid of all their cards wins!
Refund and Cancellation Policy
Our focus is complete customer satisfaction. In the event, if you are displeased with the services provided, we will refund back the money, provided the reasons are genuine and proved after investigation. Please read the fine prints of each deal before buying it, it provides all the details about the services or the product you purchase.
In case of dissatisfaction from our services, clients have the liberty to cancel their projects and request a refund from us. Our Policy for the cancellation and refund will be as follows:
Cancellation Policy
For Cancellations please contact the us via contact us link.
Requests received later than 14 business days prior to the end of the current service period will be treated as cancellation of services for the next service period.
Refund Policy
We will try our best to create the suitable design concepts for our clients.
In case any client is not completely satisfied with our products we can provide a refund.
If paid by credit card, refunds will be issued to the original credit card provided at the time of purchase and in case of payment gateway name payments refund will be made to the same account.