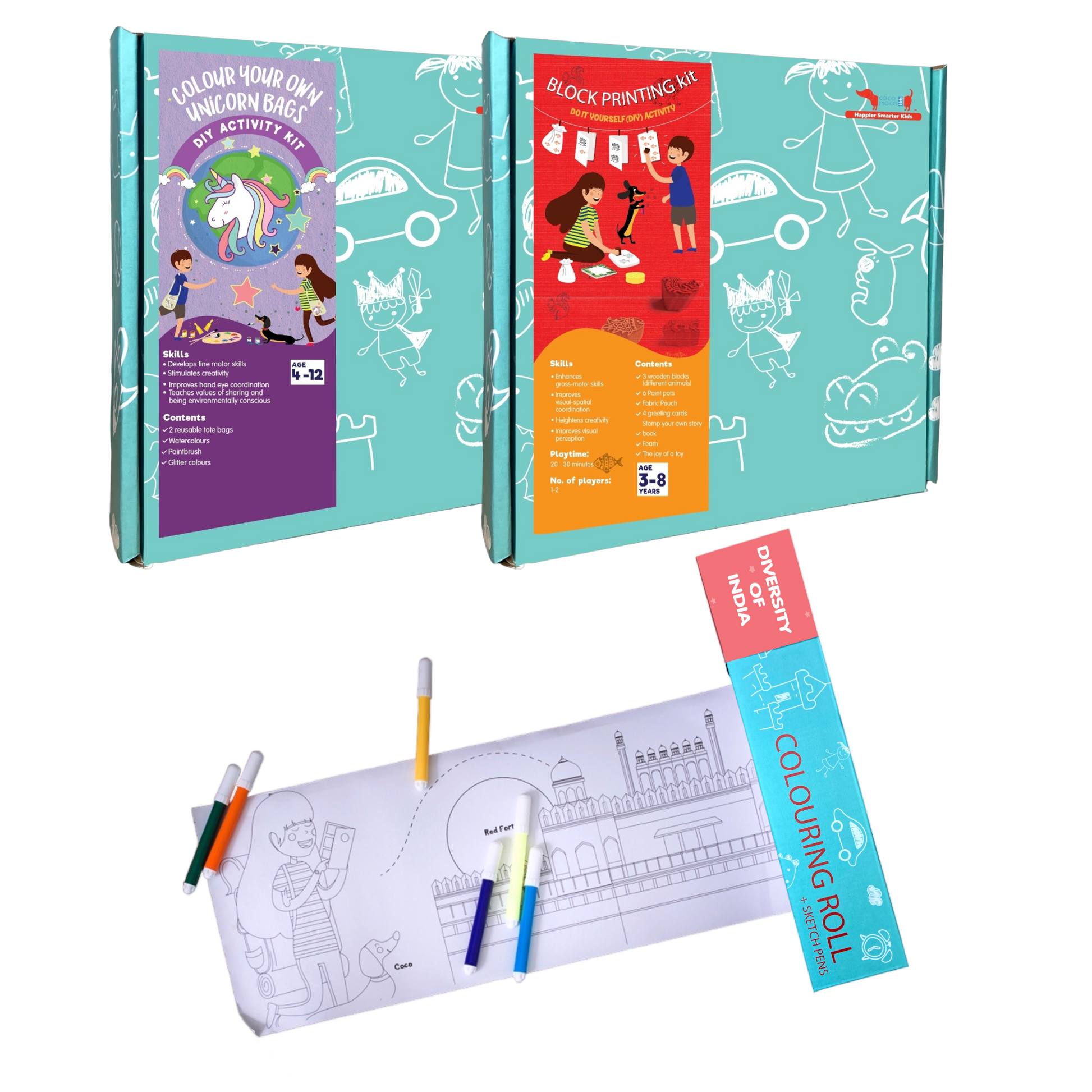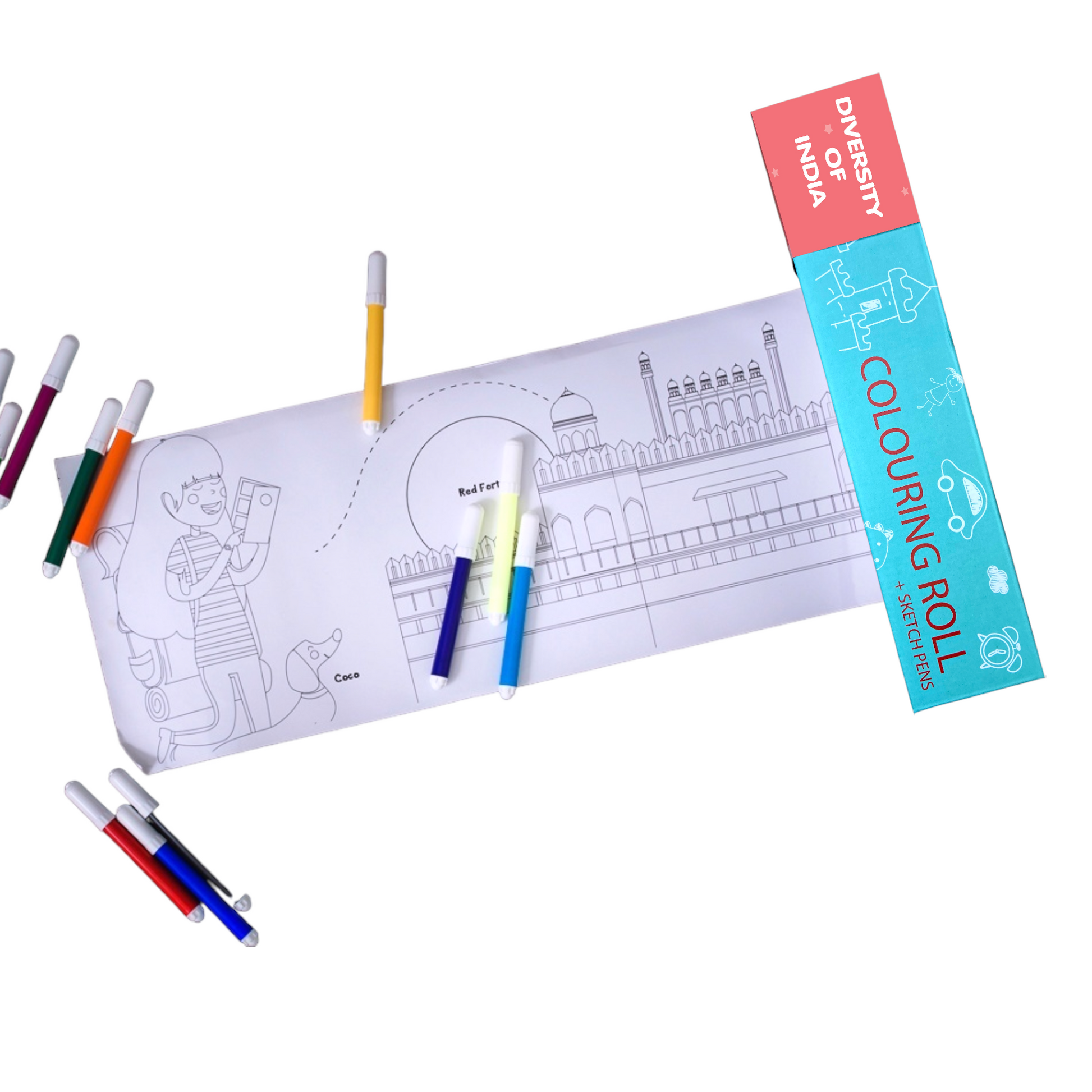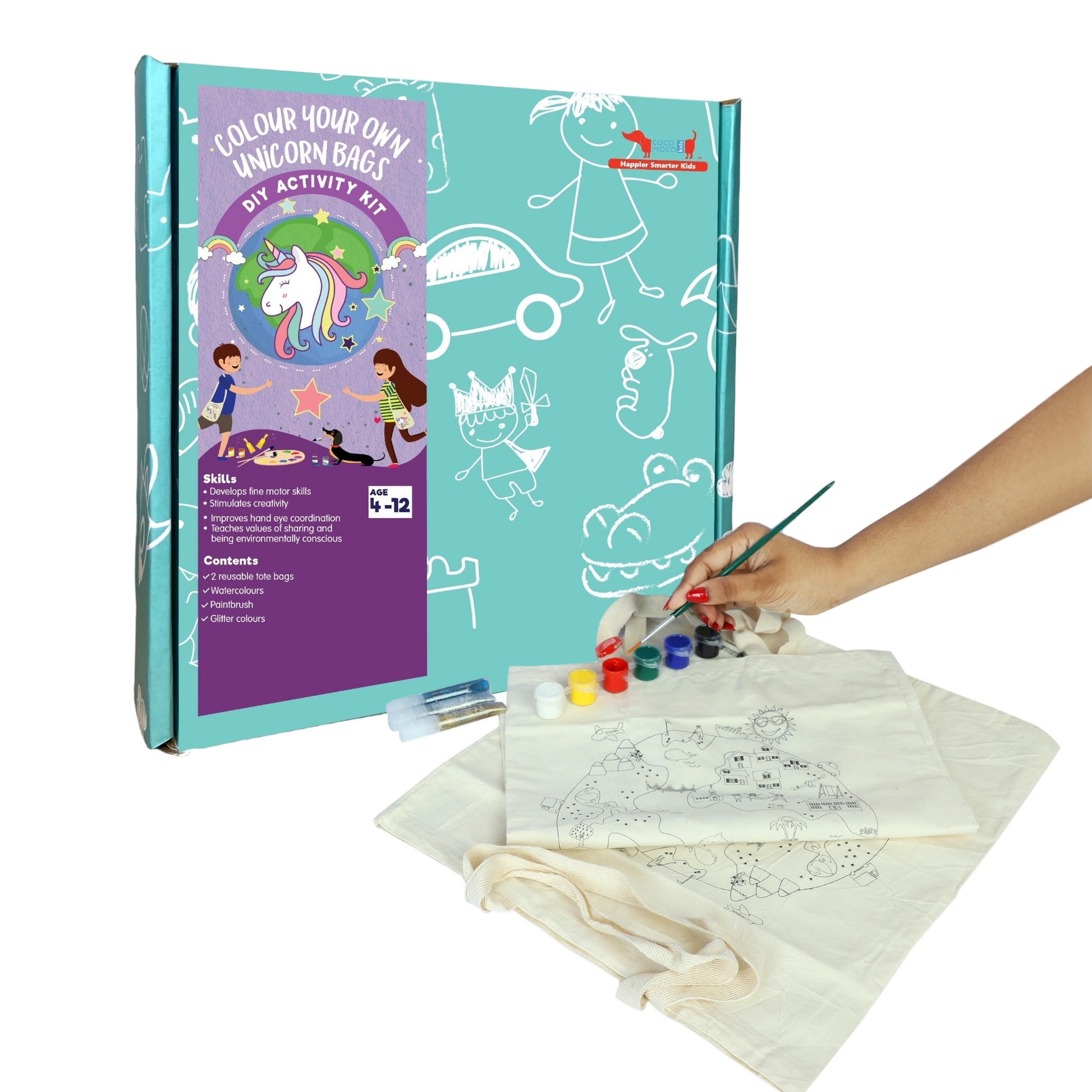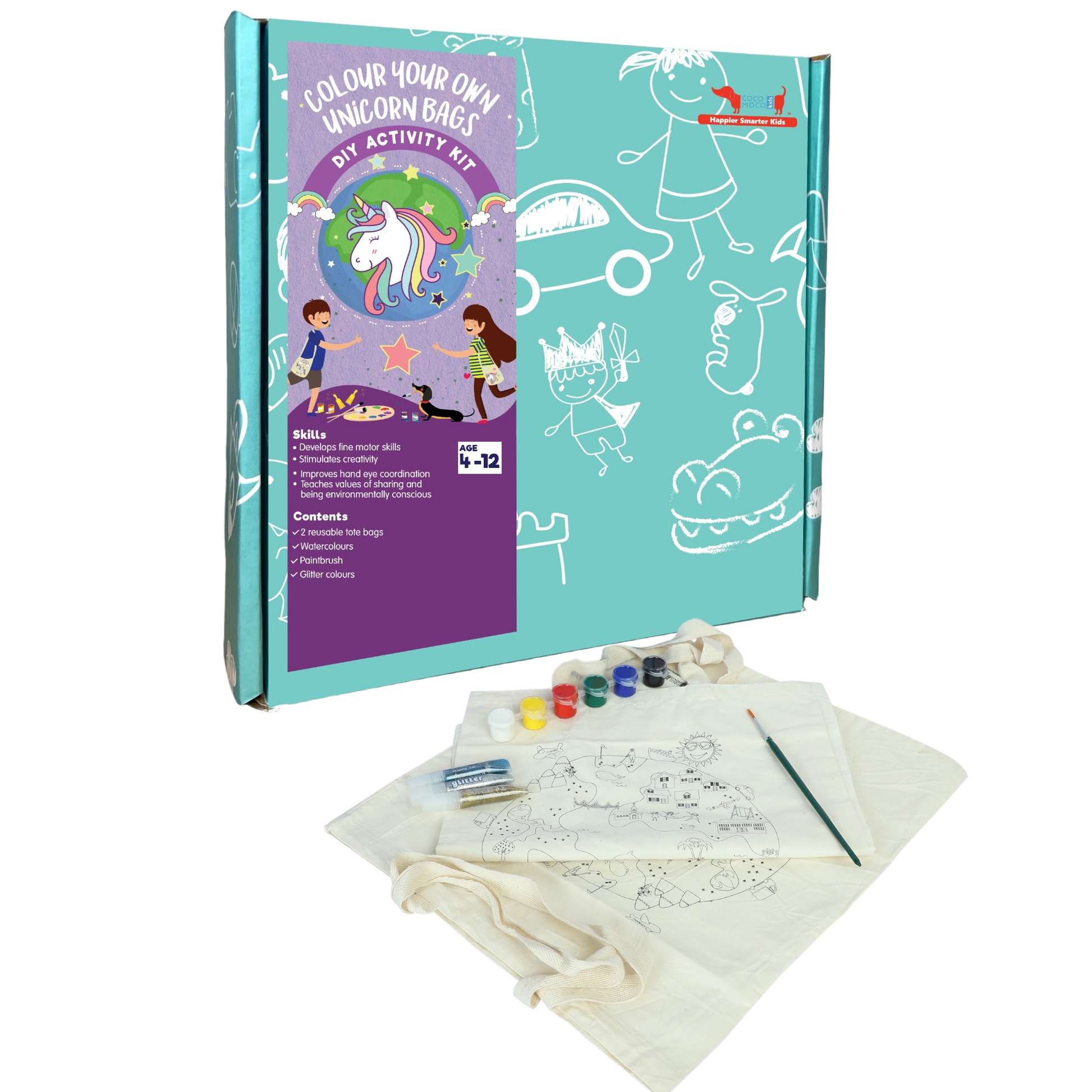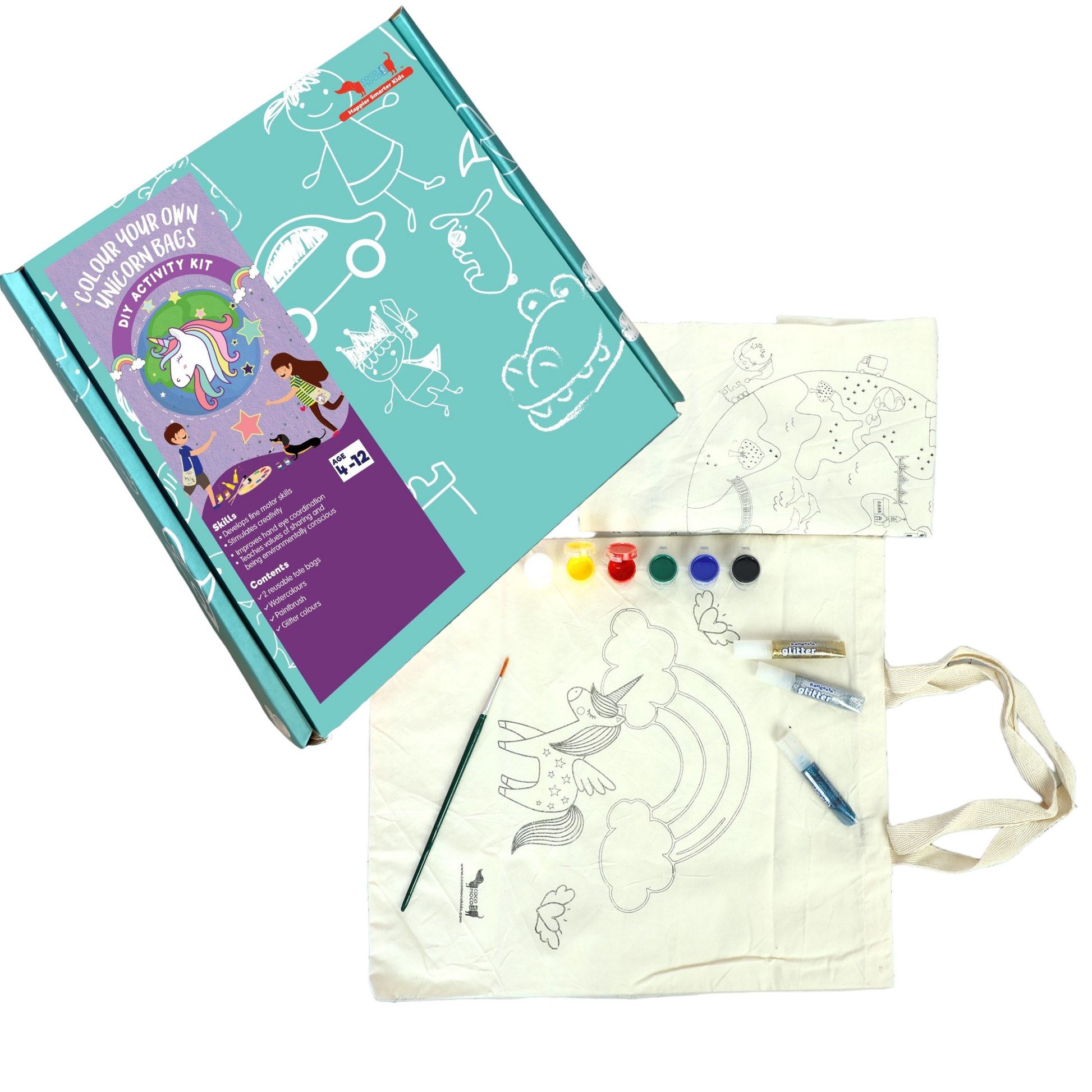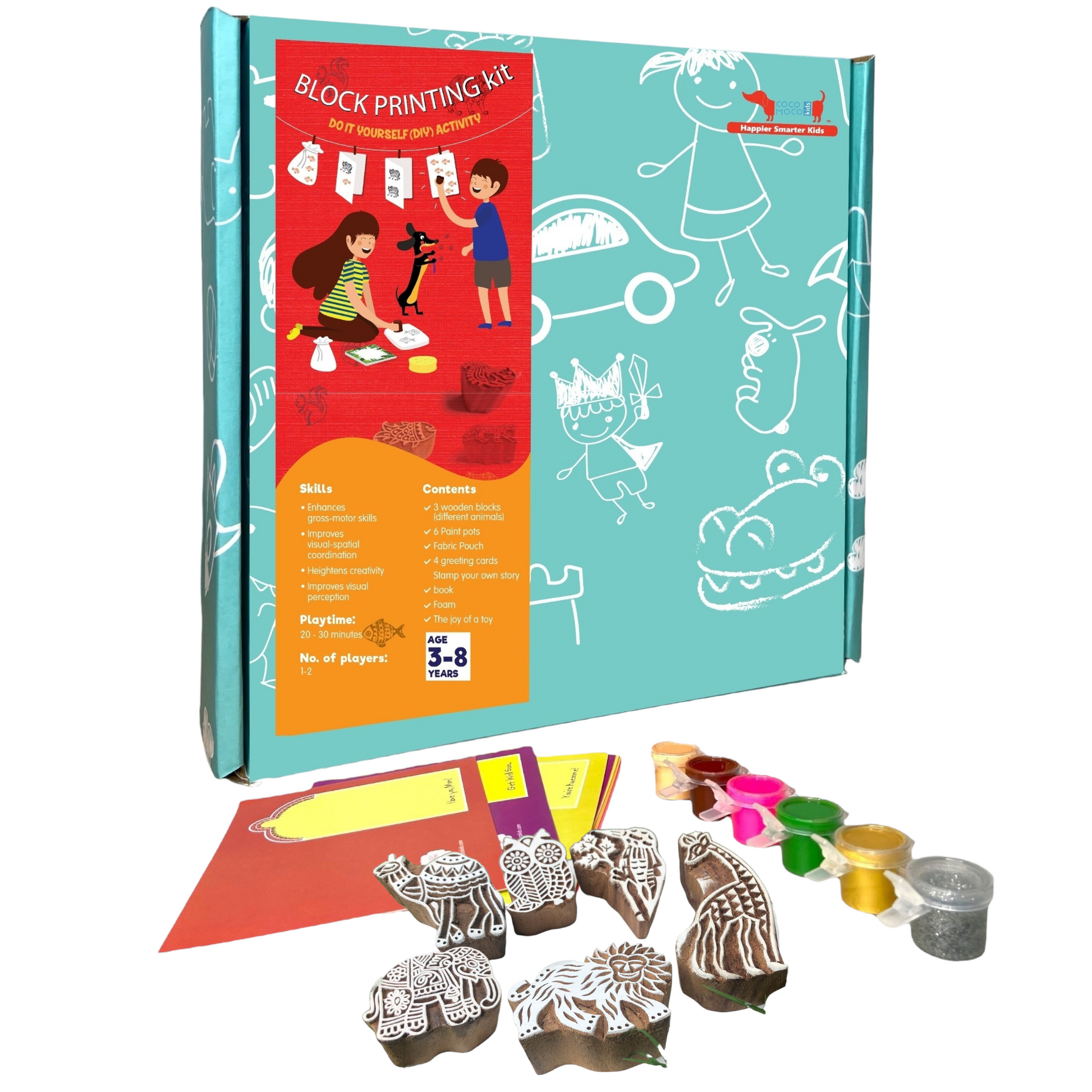 DIY COLOURING GIFT COMBO - for all art and craft lovers
Regular price
Rs. 1,299.00
Sale price
Rs. 1,299.00
Regular price
Rs. 1,847.00
Tax included.
DIY COLOURING GIFT COMBO - for all art and craft lovers
Regular price
Rs. 1,299.00
Sale price
Rs. 1,299.00
Regular price
Rs. 1,847.00
Product description
Shipping & Return
Product reviews
Includes -
1 unicorn bag colouring kit with tote bags, colours and glitter glue;
1 block printing kit with wooden stamps, greeting cards, and colours;
1 colouring roll with sketch pens
Reusable Colouring Roll and Activity Mat - 12 feet Long Doodle Art Colouring Kit - Reusable Mat Draw and Erase, Indian Culture Educational Learning Toy Birthday Gift Ages 4-8
12 feet long reusable colouring mat themed on Monuments, Festivals, National Emblem, and National Animal. Pull out the roll, doodle around and learn fun facts about the diversity of India

INCLUDES: Reusable Colouring - Sketch Pens - Colouring Roll with a Story about a girl travelling through India. - Stickers

⭐ SKILLS: Improves memory - Enhances critical thinking - Heightens creativity - Hones visual-spatial coordination and visual perception - Boosts knowledge - Enhances gross-motor skills
Unicorn Tote Bag Painting Kit For Kids - Diy Art And Craft Kit For Girls 9-12 Birthday Return Gifts, Learning Toys
A fun colouring activity that teaches the importance of reusing and recycling! There's no Planet B! A great way to teach kids about reusing bags

Set of Two Unicorn Colouring Bags with Mother earth printed on one side and Unicorn on the other.

Includes: 2 Tote Bags, Glitter Glue, Water Colours, Paintbrush
Craft Material - Wooden Block Printing Kit with Stamps for Kids - Art and Craft Kit - Painting Kit - Birthday Return Gift for Kids Boys Girls
🎨 Art and Craft Kit with Wooden Stamps, Paint and Greeting Cards to keep your kids engaged and away from screen time. Includes three animal and flower stamps for children. Ideal for all toddlers and kids who love stamping, colouring and painting.

🎨 CONTENTS: 6 Wooden Animal / Flower Stamps, 4 Greeting Cards with Kindness Messages, 6 Pots of Paint, Sponge for putting paint on blocks

✅ SKILLS: Enhances gross-motor skills, Improves visual-spatial coordination, heightens creativity, Improves visual perception. Designed to hone artistic abilities at a tender age, this one falls in the Artistic domain of our A.G.E.S series. Especially designed for tiny hands.

🎂 Great idea for return gifts for kids birthday party. Suitable for Age 3 year olds and up. If you're throwing an India theme birthday party / Art theme party then these sets would be the perfect choice of party favors for kids

🎨 Educational Toy to learn the art of ancient Block Printing technique used for printing patterns on textiles and paper with this kit. Use the stamps to create patterns on the greeting cards provided, or any other paper and fabric.
Refund and Cancellation Policy
Our focus is complete customer satisfaction. In the event, if you are displeased with the services provided, we will refund back the money, provided the reasons are genuine and proved after investigation. Please read the fine prints of each deal before buying it, it provides all the details about the services or the product you purchase.
In case of dissatisfaction from our services, clients have the liberty to cancel their projects and request a refund from us. Our Policy for the cancellation and refund will be as follows:
Cancellation Policy
For Cancellations please contact the us via contact us link.
Requests received later than 14 business days prior to the end of the current service period will be treated as cancellation of services for the next service period.
Refund Policy
We will try our best to create the suitable design concepts for our clients.
In case any client is not completely satisfied with our products we can provide a refund.
If paid by credit card, refunds will be issued to the original credit card provided at the time of purchase and in case of payment gateway name payments refund will be made to the same account.