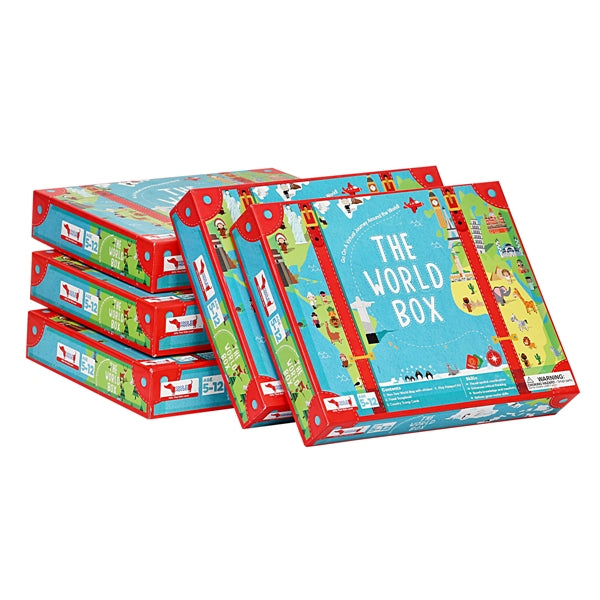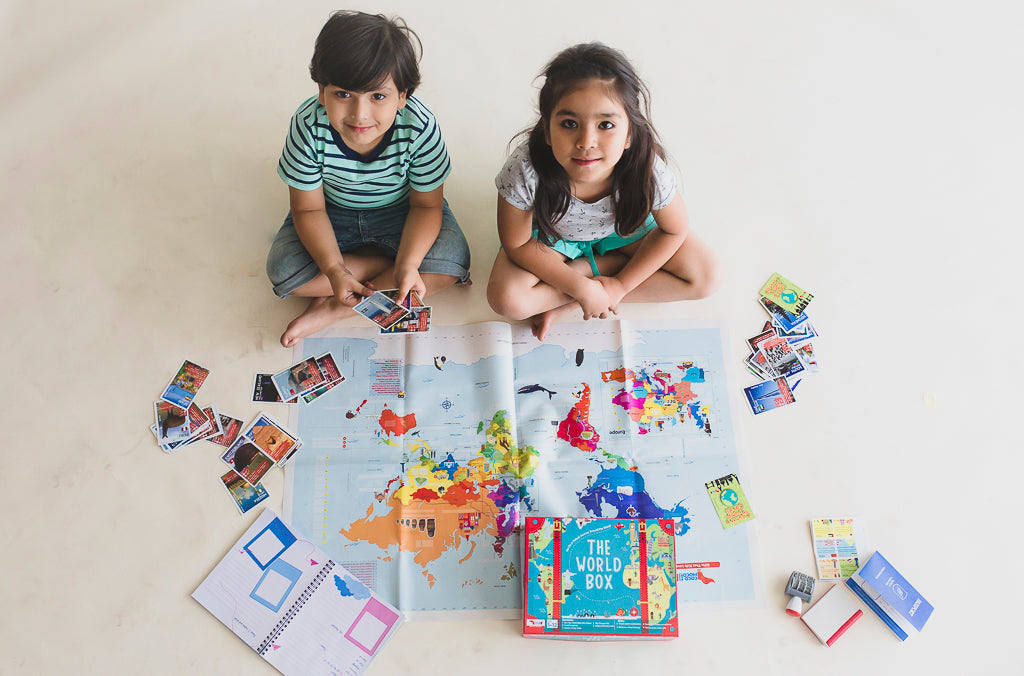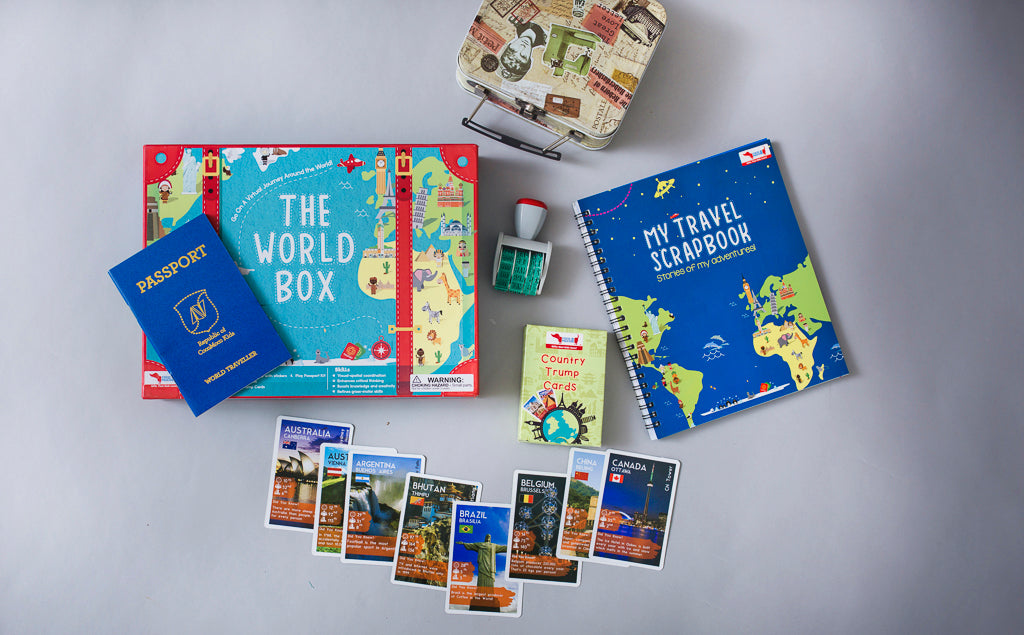 Regular price
Rs. 4,995.00
Sale price
Rs. 4,995.00
Regular price
Rs. 7,495.00
Tax included.
World Box - Set of 5
Regular price
Rs. 4,995.00
Sale price
Rs. 4,995.00
Regular price
Rs. 7,495.00
Product description
Shipping & Return
Product reviews
ACTIVITY BOX for 5-12 years old kids. A fun way to teach kids WORLD GEOGRAPHY and improve their GENERAL KNOWLEDGE! Keeps kids engaged for hours of learning and fun. Perfect present for girls and boys both
INCLUDES FOUR ACTIVITIES: World Map Activity Kit for Kids with Reusable Stickers, Play Passport pretend play activity kit, Travel Scrapbook for recording memories and stories, and a game of Country Trump Cards Geography
Inspire your young explorer to learn about the world with this perfect gift and the best birthday gift idea for kids or giveaway as birthday return gifts. Learn through Play!
SKILLS: - Boosts general knowledge and creativity - Improves visual-spatial coordination - Cultivates interpersonal skills through social play - Enhances critical thinking - Rewarding and motivating to boost curiosity - Refines gross-motor skills
Digital Detox for your Kids - Keep your kids away from screen time with this STEM Activity Kit! Doing activities and creating things makes kids creative and helps them expand their imagination.
Inspire your kid to LEARN GEOGRAPHY with our bestselling World Box - a perfect gift for every child! This Activity box includes games and DIY activities that help improves general knowledge, is rewarding and motivating to boost curiosity, refines gross and fine motor skills, enhances creativity and critical thinking. INCLUDES - a World map for kids with reusable stickers activity kit, pretend play activity with Play Passport Kit with Stickers, Travel Scrapbook, and a game of Country Trump Cards (set of 50 cards) Great gift for kids (boys and girls) in the ages 5-12 years. CocoMoco Kids makes award winning educational games for children aged 2-12 years. Our expertise is in our geography series of games aiming to inspire children to learn about the world. Your search for good gifts and return gifts for kids ends here! We make Happier and Smarter Kids!
Refund and Cancellation Policy
Our focus is complete customer satisfaction. In the event, if you are displeased with the services provided, we will refund back the money, provided the reasons are genuine and proved after investigation. Please read the fine prints of each deal before buying it, it provides all the details about the services or the product you purchase.
In case of dissatisfaction from our services, clients have the liberty to cancel their projects and request a refund from us. Our Policy for the cancellation and refund will be as follows:
Cancellation Policy
For Cancellations please contact the us via contact us link.
Requests received later than 14 business days prior to the end of the current service period will be treated as cancellation of services for the next service period.
Refund Policy
We will try our best to create the suitable design concepts for our clients.
In case any client is not completely satisfied with our products we can provide a refund.
If paid by credit card, refunds will be issued to the original credit card provided at the time of purchase and in case of payment gateway name payments refund will be made to the same account.